Carole Waltens, Senior DSE Assessor and Physiotherapist – OFI, talks about adjusting your chair correctly.    
For the majority of us, an office based working role demands a significant amount of our time sitting in a chair at a computer. It seems the most innocent of environments with regards to risk, but physiotherapists and osteopaths are treating an increasing amount of patients for postural related musculoskeletal pain and discomfort that can be directly attributed to poorly thought-out office workspace use, of our computer equipment and seating.
Are you sitting comfortably?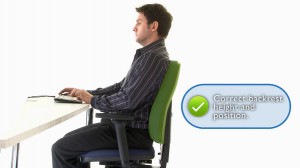 Poor seated work posture can cause a wide range of musculoskeletal ailments which can negatively affect your physical and emotional wellbeing, your work performance and overall productivity. A further concern is that many people are not aware of the damage they are doing to themselves until quite severe symptoms begin to manifest.
Carole Waltens, OFI's senior consultant in Display Screen Equipment carried out a study over several years whilst she was working as the resident treating physiotherapist in two multinational blue chip companies, where the majority of her patients were working in office environments. Her research showed that many patients who had presented to her for treatment with symptoms in their arms, wrists and hands, also had acute neck joint problems that were asymptomatic.
Carole commented:
"Ensuring good posture amongst seated staff is probably one of the most neglected areas of musculoskeletal risk health – even with the legal requirements of Display Screen Equipment legislation."
Check out your chair – adjust it properly!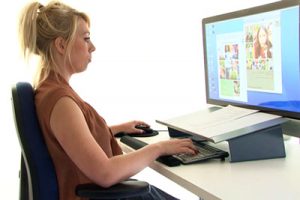 To ensure you maintain the correct posture while working at your desk it is crucial that you recognise the importance of adjusting your work chair correctly to meet your personal requirements.
You and your Health & Safety Manager share joint responsibility to ensure your work chair is correctly adjusted to meet your needs, however from Carole's experience it is common for office workers to 'put up with' a chair that they have not  adjusted.
In her work as a clinician in the office environment she reports that:
"Many times I have walked the office floors and seen people sitting awkwardly in chairs that have obviously not been adjusted to fit them, since the chair was delivered. No wonder people also experience low backache and neck/shoulder pain, sitting at their desk."
An obvious starting point to ensuring your safety and comfort whilst seated is to check out whether you are using a suitable chair for working at a desk and using a computer screen. A large number of office workers complain about musculoskeletal conditions, especially neck and back pain, which are caused by inadequate seating or poorly adjusted chairs. Lower back pain is frequently caused by the chair providing insufficient lumbar support resulting in the seated worker tending to slouch.
Is your chair stable? Is it large enough to allow easy movement? Does your office chair have adjustable seat height, back and tilt? The ideal office chair will be well-balanced on five castor-based feet and have a free-moving swivel seat.
Learn how to make adjustments to your chair, and if you're not sure – ask!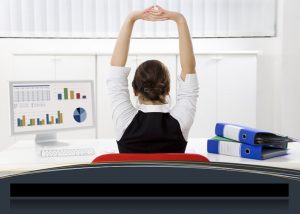 Adjust the back rest of the chair using the back height and tilt levers. If the chair has a separate lumbar support on the outside, slide it up or down until it is supporting your lumbar spine. If your chair seat has an adjustable tilt, make it tilt slightly forward. This will prevent the pelvis from tilting backwards, maintaining a straight back and keeping the spine in the ideal 'neutral' position.
Make adjustments to the chair shape until you feel comfortable, and then adjust the overall height. To do this, use the keyboard height as your bench mark; ensure your shoulders are relaxed and down, forearms are horizontal with your elbows at 90 degrees and raise or lower your chair so that your fingers are just level with the keys on the keyboard. Now adjust your screen so that your eyes are level with the top of the computer screen.
How comfortable are your legs? Ideally, your knees should form right angles. If, when your chair is at the correct height in relation to your keyboard, and your knees are held at right angles, your feet do not rest flat and firmly on the floor, use a footrest, in order to relieve pressure on the back of your thighs.
Correct adjustment of your work chair is crucial to keeping you healthy, safe and productive in the workspace. We all know that old adage 'prevention is always better than cure', so when you next sit down at your office chair remember these guidelines, and take some time to check out your own comfort and safety.