Workstation Assessment for Homeworkers
Many employees are now working from home. They may have had to set up a temporary workstation at home without professional guidance or supervision. Prolonged sedentary work at a poorly set up workstation can give rise to back, shoulder, neck or limb pain or make existing conditions worse, particularly if the seating posture is poor.
A Remote Workstation Assessment will provide specialist advice, training and guidance to the employee, and will help an employer mitigate risk and meet their duty of care.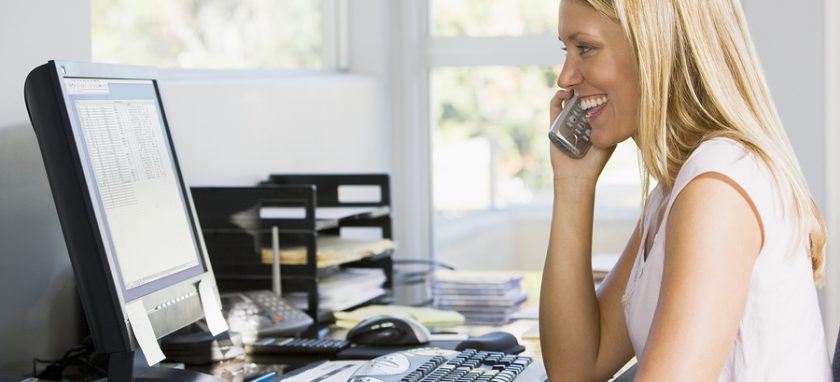 Key details:
Aimed at: Any short/medium term homeworkers.
Cost: From £95 + VAT per person.
Duration: 30 to 60 minutes.
Location: Remote assessment conducted by video and/or telephone.
We never planned to be working from home for so long
Users working with poorly set up Display Screen Equipment (DSE) are most likely to experience discomfort gradually, over a period of time. If no changes are made to their working environment, then this discomfort will turn into pain and could lead to an acute long term condition.
With no knowledge of how long these temporary home working arrangements will be in place, the risks to the individual are likely to increase unless a strategy for workstation assessments and employee guidance are put into place.
If an employee is experiencing discomfort at their workstation, or having difficulties setting up an appropriate working environment, then undertaking a workstation assessment will identify the risks and provide practical, reasoned solutions and recommendations. This will reduce the risk to the lowest possible level in so far as is reasonably practicable for the Employer and Employee; and demonstrate due diligence of care in accordance with the Health and Safety at Work Act 1974.
Your legal obligations
The HSE has advised that there is no increased risk for those working from home temporarily, and so in this situation, employers do not need to do a risk assessment. (See HSE homeworking guidance). However, employees are now working from home with no choice and had little or no time to prepare or adapt their environment. It is also unclear just how temporary these arrangements will be – initially it was expected to be weeks, but now looks like being several months at least.
DSE use can give rise to back, shoulder and upper limb pain or make existing conditions worse, particularly if the seating is poor, the workstation ergonomics are poor, or the user is sitting for too long without postural changes and regular breaks. (See the Health and Safety (Display Screen Regulations) 2002).
It is the duty of every employer to ensure, as far as is reasonably practicable, the health, safety and welfare at work of all employees, and provide the necessary information, training and instruction. (Health and Safety At Work Act 1974)
Why Thrive4Life and our Workstation Assessment?
As an employer, there are limits on what is reasonably practicable in the short/medium term, and it is difficult to manage risks to your employees when they are working remotely. However,
by providing specialist advice, training and guidance to the employee, you will be helping to mitigate risk and meet your duty of care to maintain your employees health and welfare.
Here are a few reasons to choose Thrive4Life to provide your remote workstation assessments:
Our workstation assessor is also a Chartered Physiotherapist with many years' experience in undertaking telephonic consultations.
Their detailed understanding of biomechanics and how the body works, will help the employee better manage their musculoskeletal health.
Our assessor will problem solve with your employee to find ways in which they can best utilise their available equipment, their environment and their work routine to minimise risk.
Provide practical exercises, stretches, and postural correction.
Ensuring that all achievable 'soft' solutions are met.
Provide practical and cost effective longer term solutions, which can be implemented if required.
Homeworking Assessments
Remote DSE Workstation Assessments are conducted by video consultation with your employee. This can be done using their desktop computer or laptop with a webcam, a tablet / iPad, or via their smartphone.
Basic 30 minute assessment with short report
Cost: £95 + VAT
Suitable for: An employee who has raised an issue of musculoskeletal discomfort, or is having difficulties setting up a suitable workstation.
Example: Mr xxx. Project worker. Now spends up to 8 hours on computer. Prior to working from home, their tasks would be interrupted by meetings or time away from their desk. Possibly working from laptop and now experiencing neck or shoulder pain, or headaches which they have not had in the past.
Complex 60 minute assessment with comprehensive report
Cost: £195 + VAT
Suitable for: An employee who has a pre-existing musculoskeletal condition which has been aggravated by working from home. May be covered by the Equalities Act 2010.
Example: Ms xxx. Coordinator. Work is all desk-based using a computer. Unable to adjust their existing equipment and environment to reduce discomfort, and has been getting progressively more uncomfortable. Possibly unable to undertake a usual course of physiotherapy, Pilates, etc. which has previously helped manage the condition.
Security: Homeworking assessments are undertaken using a secure means; either by video link or by telephone. If employers require a report, then this can be transferred securely in a password-protected format. If photographic data is requested during the course of an assessment, then this data will be managed and transferred securely.
Additional services: We can offer training for HR Managers and/or Line Managers so that they can triage employees to identify those requiring assessments. We can also suggest an equipment list for temporary home working. Please contact us for more information on these services.
Interested? Get in touch with us
Please email melanie@ofi.co.uk and we will get back to you.
Let us know how many employees may require a Remote Homeworking Assessment and if you are considering the 'basic' or 'complex' report, or a mixture of both.
---