Osteopaths
for Industry
Bespoke health and safety training solutions
delivered by occupational osteopaths & physiotherapists
Corporate Health and Safety Solutions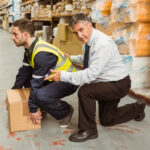 Osteopaths for Industry has been at the forefront of innovative injury prevention training and education for over 35 years.
We provide Manual Handling, People Moving & Handling, Client Handling, DSE Workstation and Risk Management training and consultancy for industry across the UK.
Our hands-on training is delivered by occupational osteopaths who have a deep knowledge of your industry's needs.
Let our professionals take your business's health and safety to new heights.
"The whole process, from my original enquiry through to delivery of the program, was handled quickly and professionally. I received excellent feedback from my delegates and I would highly recommend Osteopaths For Industry as a manual handling training provider."

David Reid

Learning and Development Manager, Coca-Cola Europe
Why Osteopaths For Industry?
We combine clinical expertise and a long history of working in all sectors of UK industry, to provide flexible training services that are revolutionising health and safety culture in the UK.
At OFI, we focus on changing cultures within organisations and educating employees in the medical benefits of using correct manual handling techniques. Our training is proven to be an effective tool for reducing work-related injuries.
All of our instructors are experienced Osteopaths or Physiotherapists, with a vast history of working in all sectors of industry.
Our nationwide instructor team are experts in the field of injury prevention, and are able to explain the 'Why behind the How' of using good handling technique, which increases the effectiveness of training.
Discover more about OFI
Who we've worked with
Osteopaths For Industry are trusted by some of the best-known organisations in the UK to provide effective Manual Handling Training and Risk Management advice.