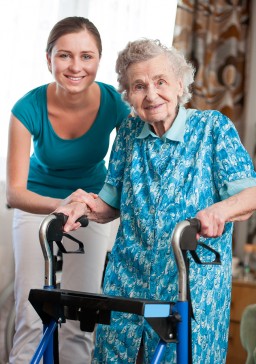 Employees in the health and social care sectors may be involved in moving and handling activities such as moving equipment, laundry, catering, distributing supplies or assisting patients/residents in moving. The moving and handling of people is a regular task in health and social care, which if not done safely, can cause serious injury to service users and staff.
Common carers' injuries
The most common injuries carers experience are back injuries. Injuring your back will limit your movement and your ability to work or care for someone. It could take a long time for you to recover. Lifting someone incorrectly can also damage fragile skin, cause shoulder and neck injuries, increase existing breathing difficulties, or cause bruising.
Poor moving and handling practice can lead to:
back pain and musculoskeletal disorders, which can lead to inability to work
moving and handling accidents – which can injure both the person being moved and the employee
discomfort and a lack of dignity for the person being moved
Managing moving and handling risks
If risks from moving and handling are to be managed successfully, there must be support from those at the top of the organisation, whatever its size. Key elements include:
recognition of the risks
commitment to introducing precautions to reduce that risk
a statement of clear roles and responsibilities
an explanation of what is expected from individual employees
arrangements for training and providing / maintaining equipment
arrangements for monitoring compliance
a commitment to supporting people who have been injured in connection with their work
The following legislation may be relevant for assessing moving and handling risks:
Employers must reduce the risk of injury to staff and people using care services by:
avoiding those manual handling tasks that could result in injury, where reasonably practicable
assessing the risks from moving and handling that cannot be avoided
putting measures in place to reduce the risk, where reasonably practicable
Employees must:
follow appropriate systems of work and use the equipment provided
co-operate with their employer and let them know of any problems
take reasonable care to ensure that their actions do not put themselves or others at risk
Use moving and handling equipment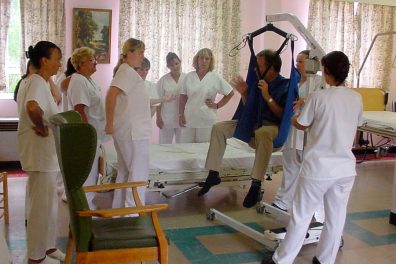 The correct use of moving and handling equipment may reduce the risk of injury. The type and amount of equipment needed will vary according to the specific needs of care service users. When providing equipment, providers should consider the needs of the individual (while helping to maintain independence wherever possible), and the safety of the individual and staff.
Necessary equipment may include:
a selection of hoists – eg hoists to raise fallen individuals from the floor, standing hoists, mobile hoists etc
bath hoists or bath lifts and/or adjustable height baths
a sufficient number of slings of different types and sizes
slide sheets
transfer boards used to assist in moving from and to different furniture (eg. seat to wheelchair)
turntables used to assist in turning people around
electric profiling beds – for dependent/immobile residents
wheelchairs
handling belts to assist residents who can support their own weight, e.g. to help them stand up. They should not be used for lifting
lifting cushions used to assist people to get up from the floor or bath
bed levers, support rails/poles
emergency evacuation equipment
suitable walking aids, hand rails etc for people needing minor assistance
bariatric equipment (i.e. for use with very heavy people)
Introduce equipment only after assessment and use in accordance with the care plan and manufacturer's instructions.
Review moving and handling training
Ensure that staff who participate in moving and handling activities are properly trained, that their training is relevant and that a schedule of refresher training and/or continuous professional development is in place.