In today's fast-paced working environment, employee wellbeing should always be a top priority for employers. Musculoskeletal disorders (MSDs), which encompass injuries and conditions affecting the back, joints, and limbs, can significantly impact the health and productivity of workers. Implementing health monitoring systems and providing appropriate support can help mitigate these risks and create a healthier work environment for all.
In this blog post, we're exploring the benefits of health monitoring, strategies for implementation, and additional measures to support workers with MSDs, helping them to feel their best at work.
Health Monitoring: An Essential Tool
Health monitoring involves collecting early reports of symptoms from workers, providing valuable insights into their overall health and wellbeing. Although not legally required, health monitoring is a proactive measure that empowers employers to take preventive action and identify potential MSD risks before they snowball. By utilising health monitoring, employers can effectively introduce new tasks, evaluate existing processes, and ensure that implemented controls are effective in preventing and addressing problems.
At OFI, we believe in the importance of carrying out comprehensive, in-depth MSD risk assessments – it's what we do best.
Whether you're looking for someone to conduct risk assessments for you or to train up your own in-house risk assessors, we've got the solution for you. Our experts specialise in: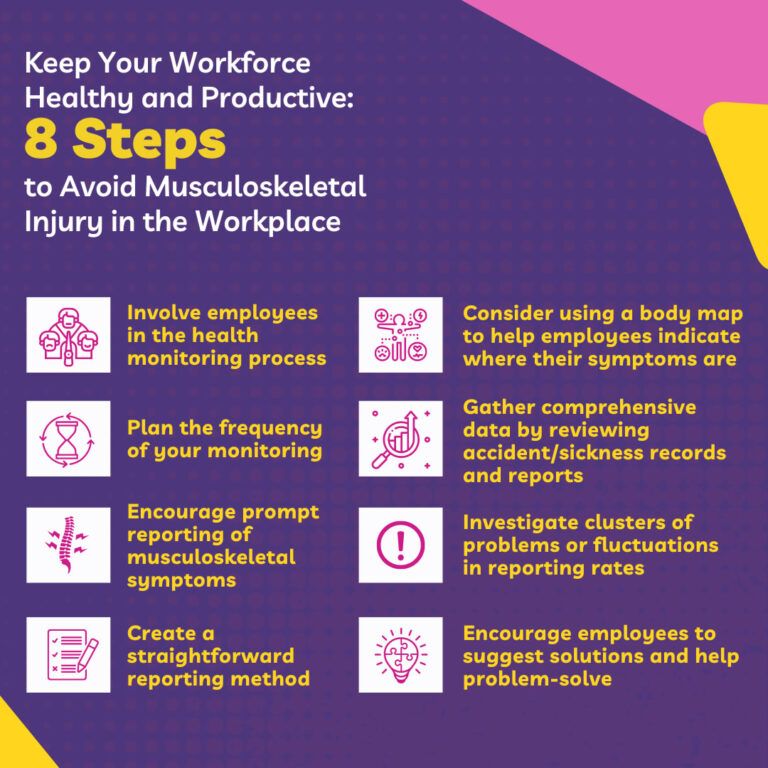 Implementing Health Monitoring: 8 Key Steps
To establish an effective health monitoring system, you should:
Involve workers in the health monitoring process:
– Consult with employees to communicate the benefits of health monitoring, how you'll go about it, and what their role will be in the process.
Plan the monitoring process and frequency:
– Ensure consistent and timely collection of information. When are you going to monitor employees? How often?
Encourage prompt reporting of musculoskeletal symptoms:
– This will facilitate early intervention and minimise problem escalation.
Create a straightforward reporting method:
– Streamline the flow of information so that it goes directly to the person responsible for taking action.
Consider using a body map:
– To help employees indicate where their symptoms are and identify specific common areas of symptom occurrence. (The HSE produces a Body Mapping Tool which you can download for free from their website).
Gather comprehensive data by reviewing:
– Sickness absence records, fit notes, and occupational health advice.
– Accident book entries and RIDDOR reports.
Investigate clusters of problems or changes/fluctuations in reporting rates:
– Identify trends and potential areas of concern.
– Ask employees for their input regarding the cause of the musculoskeletal problem they're experiencing.
– Does their work make their issue worse?
Encourage workers to suggest solutions:
– Empower employees to contribute to problem-solving.
* If your workforce is small, even holding a simple, open discussion about health and safety issues in the workplace can be extremely helpful for identifying areas for improvement/closer monitoring.
Reviewing and Interpreting Results:
The insights derived from health monitoring will enable you to evaluate the effectiveness of your MSD risk management system. By identifying susceptible individuals, you can seek occupational health advice on modifying their work or imposing restrictions, if necessary. Analysing patterns of MSDs among different worker groups or related to specific tasks facilitates a more targeted approach to risk assessment and mitigation.
Throughout this process, consider whether the actions taken thus far have been effective in reducing risks to as low as reasonably practicable. * Your findings may indicate the need for new control measures or adjustments to existing ones. Continuous data monitoring and analysis allow for ongoing improvements in creating a safer and healthier work environment.
What does it mean to reduce the risk level to as low as 'reasonably practicable?
According to the HSE, when getting their employees to complete tasks that involve manual handling, employers must decide if the task is 'reasonably practicable'. In other words, they must balance the risk level against the cost, effort, or time that would be needed to take measures to control the risk. E.g., if the risk is only very minor, it might not be necessary to take extremely expensive action to mitigate it – perhaps there's a lower cost option that lowers the risk level just as effectively.
If you're seeking expert guidance to enhance your health and wellbeing strategy and ensure it caters to the unique needs of your employees, look no further. Our sister company, Thrive4Life, offers Wellbeing Consultancy services (link this here) designed to simplify the process of caring for your employees in the most effective way possible.
Our team of highly experienced health and wellbeing professionals will:
Assess your current strategy and identify areas for improvement.
Create a comprehensive plan that aligns with your company's goals and values and is tailored to your specific needs.
Provide practical recommendations and solutions to enhance employee health and wellbeing.
Offer ongoing support and guidance to help you implement and manage the recommended changes.
Conduct regular evaluations and adjustments to ensure the continued success of your strategy.
Supporting Workers with MSDs:
Early detection and appropriate treatment are crucial for the complete recovery of employees with MSDs. While health monitoring plays a pivotal role, additional measures can be implemented to manage these conditions effectively. These include:
Managing sickness absence and facilitating return to work by making necessary adjustments to work processes. Under medical guidance, individuals can often gradually return to work, even if some symptoms persist.
Engaging occupational health and rehabilitation providers who can assess symptoms, diagnose specific conditions, and investigate work-related factors contributing to the problem. They can offer fitness-to-work advice, recommend treatment options such as physiotherapy, provide on-site workplace evaluations, and assist in reviewing risk assessments and controls.
Approaching each case individually, recognising the unique needs of affected workers. If a task is causing or exacerbating an MSD, it may be necessary to modify duties temporarily or assign alternative responsibilities. In some cases, workers may be unable to return to specific tasks altogether.
In Summary
Prioritising the health and wellbeing of workers is crucial for creating a productive and sustainable work environment. Implementing health monitoring systems and offering comprehensive support for employees with MSDs are proactive steps employers can take to reduce the impact and prevalence of MSDs in the workplace. By integrating these practices, employers can identify and address potential risks, promote early intervention, and foster a culture of wellbeing in the workplace. Osteopaths for Industry are here to help you create a healthier, happier, and more productive work environment for all.